Katya Mikheeva
Hi! My name is Katya Mikheeva, I am an animation artist and a freestyle dancer. In my works I love to use the combination of these two art forms, projecting my body-moving experience to the animation I create. I make character-driven films, based on relationships and the fun absurdity of daily life.
I grew up in Moscow, Russia, where I studied animation at HSE DESIGN university. In 2020 I moved to France to continue my studies at La Poudrière school.
My freestyle dance practice is based on the moves I learned from hip hop, house, popping and experimental dance styles.
Motomichi Nakamura
Motomichi Nakamura, Japanese born and graduate from Parsons School of Design in New York, is an award-winning Animator/Projection Artist based in New York.
His work is known for the use of black, white, and red and he creates monsters with minimalistic graphic elements inspired by Cryptozoology. He has exhibited globally in numerous museums and galleries including the New Museum of Contemporary Art in New York, Winzavod – Moscow Contemporary Art Center, MARCO in Monterrey Mexico, Olympia Park Munich among others. His animated films have been screened at Sundance Film Festival, Onedotzero Festival, and Edinburgh International Film Festival and his recent experimental film "Okami" won in The Leeds International Film Festival.
Julie Roy
In May 2020, Julie Roy became Director-General of Creation and Innovation at the National Film Board of Canada.
For the previous six years, Montreal-born Roy was Executive Producer of the NFB's French Animation Studio, where she also served as a producer for 13 years.
Over the course of her career, Roy has produced some 50 films and interactive projects, primarily animated shorts. She holds a master's degree in film studies from the Université de Montréal has written numerous articles on women in film and the subject of animation and has served as a guest programmer at many international festivals. She is also a member of the Academy of Motion Picture Arts and Sciences.
Her notable recent productions include Jean-Francois Lévesque's I Barnabé (2020); Regina Pessoa's Uncle Thomas. Accounting for the Days (2019), winner of the Jury Prize at the Annecy film festival; Patrick Bouchard's The Subject(2018), which premiered at the Cannes Directors' Fortnight; and Matthew Rankin's The Tesla World Light (2017), selected to screen in competition at the prestigious Cannes Critics' Week. Roy was executive producer of Theodore Ushev's Blind Vaysha, nominated for Best Animated Short at the 89th Academy Awards in 2017. In 2016, she co-produced Franck Dion's The Head Vanishes (Papy3D/NFB), which won the Annecy festival's most prestigious award, the Annecy Cristal.
Roy has shown a particular interest in experimental projects, producing Quiet Zone (2015) by Karl Lemieux and David Bryant and Reflection (2013) by Sylvie Trouvé. She has also served as producer for the animation section of the NFB's Aide au cinéma indépendant program.
Doc and Dutch Competition Jury
Mauro Carraro
He was born in the North-East of Italy. After studying engraving, photography, and graphic design at the Polytechnic University of Milan he continued his academic path in France. In 2010 he graduated from the renowned Supinfocom Arles where he studied CG animation.
He now lives in Geneva, Switzerland, where he works at Nadasdy Film studio.
With his individual technique already distinctive in his early works Mauro contributed to the award-winning full-length animated film «Approved for Adoption» (2012) as compositing supervisor. His first professional animated short film "Hasta Santiago" was awarded as the Best Debut Film at Annecy Festival in 2014 and received over two dozen awards worldwide. His six-minute short "Aubade" prior to its release in 2014 won the project pitch at the Annecy Festival. It has been collecting awards and has over 150 selections at various festivals around the world. His latest short "59 Seconds" won the Pardino d'Argento at Locarno Festival in 2017 and was selected in more than 50 international film festivals.
Mauro has been a jury member at a number of film festivals including the Krok International Film Festival, the Warsaw Film Festival and was part of the international jury at the Seoul Best of the Best Animation Festival. Since 2014 his masterclass "Sensible 3d" and his workshop "How to open your 3D eyes" were held at more than 30 different schools and festivals such as Korans Wolf University in Berlin, IED Istituto Europeo di Design in Milan and Vilnius Academy of Arts in Vilnius.
Lizz Hickey
Lizz Hickey is the creator of Weird Helga, The Land of Boggs, and has made cartoons for Cartoon Network and Nickelodeon.
Akwasi Ansah 
Akwasi is a storyteller, creative visionary, poet, rapper, musician. He chooses words to inspire, fascinate and stimulate the hues of our contemporary thinking – to lead a new generation of thinkers, towards an understanding of how freedom of speech combined with creative talent, can move the masses.
The wordsmith is a household name in The Netherlands and as a prominent figure in the media and music industry, Akwasi's career has led to working with national media outputs, as an actor, screenwriter, TV presenter and host for radio programmes, as well as a strong offline presence in communities across The Netherlands.
Now, as the founder and creative director of Omroep ZWART, the first intrinsic inclusive broadcaster in the world, the tone is set for representation in various perspectives to color the world like it deserves to be seen.
Deirdre V. Lyons
A Los Angeles producer, actress, and occasional adjunct lecturer at Chapman University, Deirdre V. Lyons started her work in VR with two 180 films, and as a performer in The Under Presents, Tempest and Finding Pandora X. She then started producing live VR immersive theater experiences with a group of creatives that formed Ferryman Collective, creating PARA, Krampusnacht, and the award-winning show, The Severance Theory: Welcome to Respite.
Leon Rogissart & Paul Boereboom
Leon Rogissart (b. 1995) is a director who considers virtual reality to be the ultimate presentation platform, for it gives him the possibility of creating a world in which spectators can converse with themselves without external stimuli. Besides VR, he always searches for a place in his theatrical work where the audience can disappear, so as to connect with a world of inner vibration. Having played the violin since the age of five, music plays an important role in his life and work. It is music that enables him to communicate the ineffable in the most potent way.
Paul Boereboom (b. 1980) is a scenographer based in Amsterdam. "I have a profound love for tactility and am fascinated by the human body as a starting point for designing space. Human behavior and nature are two interests that continue to bring up questions that I try to explore in my research. My work comprises spatial design, installations and costume design."
Wotienke Vermeer
Wotienke Vermeer is the New Media Program Manager of the International Documentary Film Festival Amsterdam (IDFA), overseeing the IDFA DocLab program, one of the leading platforms for interactive documentary art and storytelling. Over the years she worked closely with artists and players in the immersive media field to experiment with exhibition and presentation formats.
Prior to joining IDFA in 2015, she was the film programmer at London's Frontline Club, an organization that champions independent journalism; curated the documentary strand of the Dutch cultural platform We are Public; hosted a biweekly evening of short documentaries in Amsterdam, and traveled through Central Europe with her band.
Tomm Moore

Co-founder and Creative Director of Cartoon Saloon
Over Cartoon Saloon's history, Tomm has worked as Director, Art Director, Storyboarder, Animator and Illustrator across a range of the studio's projects. Tomm has directed 3 universally successful feature films. All three were nominated for Best Animated Feature at the ACADEMY AWARD® The Secret of Kells in 2010 and the spiritual follow-up, Song of the Sea in 2015.
His latest feature film "Wolfwalkers" which he co-directed with Ross Stewart received several prominent critics awards including LAFCA Award and NYFCC Award as well as nominations for a Golden Globe and a Bafta and wins in several categories including Best Director and Best Independent Feature at the 2021 Annie Awards. He is currently working as a producer across several of Cartoon Saloon's new film and series projects as well as refocusing on his personal art training.
Ari Folman
Ari Folman is an Israeli director, screenwriter, and film score composer. He has written for several successful Israeli TV series, including the award-winning In Therapy (Be Tipul), which was the basis for the HBO series In Treatment. He is the director of the Oscar-nominated Waltz with Bashir and The Congress.
During the festival, he will have a special masterclass via a livestream on location, Thursday 31st of March 2022.
Audrey Janis
I am Audrey Janis. A motivational speaker, host/presenter, podcast host, model and currently a teacher in a primary school.
I love to sing, dance and inspire. I stand for having open conversations with people about difficult or uncomfortable subjects to build bridges between people and with that create more understanding and also find common grounds with other people.
Understanding can only be created by Listening and expressing where we stand and how we got to where we stand.
Chintis Lundgren
Chintis Lundgren is an Estonian-born animator currently living in Croatia. Self-taught, Lundgren's body of work includes an assortment of quirky music videos, PSAs and short films featuring a light, absurdist tone along with distinct anthropomorphic characters. In 2011, Lundgren created her own animation studio called Chintis Lundgreni Animatsioonistuudio and later co-founded Adriatic Animation, an animation studio based in Croatia.
Her films (including the award-winning shorts, Manivald (2017) and Life with Herman H. Rott  (2015) have screened at numerous international festivals including Sundance, Annecy, Animafest Zagreb, Hiroshima and Ottawa.
Karolina Glusiec 
Karolina is a visual artist working mainly across animated and DIY film media, inspired by ways of seeing and ways of remembering, and a frequent collaborator in projects inspired by and rooted in music. Karolina is a visiting and faculty member lecturer in drawing and animation examining various ways of image-memorizing and perception. She's currently co-running Deptford Contemporary – an art gallery from her flat along with fellow artist Jamie Temple. Karolina's work has screened widely at festivals and galleries around the world, winning prizes at Ann Arbor Festival, Vienna Independent Shorts Festival as well as the 2012 Jerwood Drawing Prize.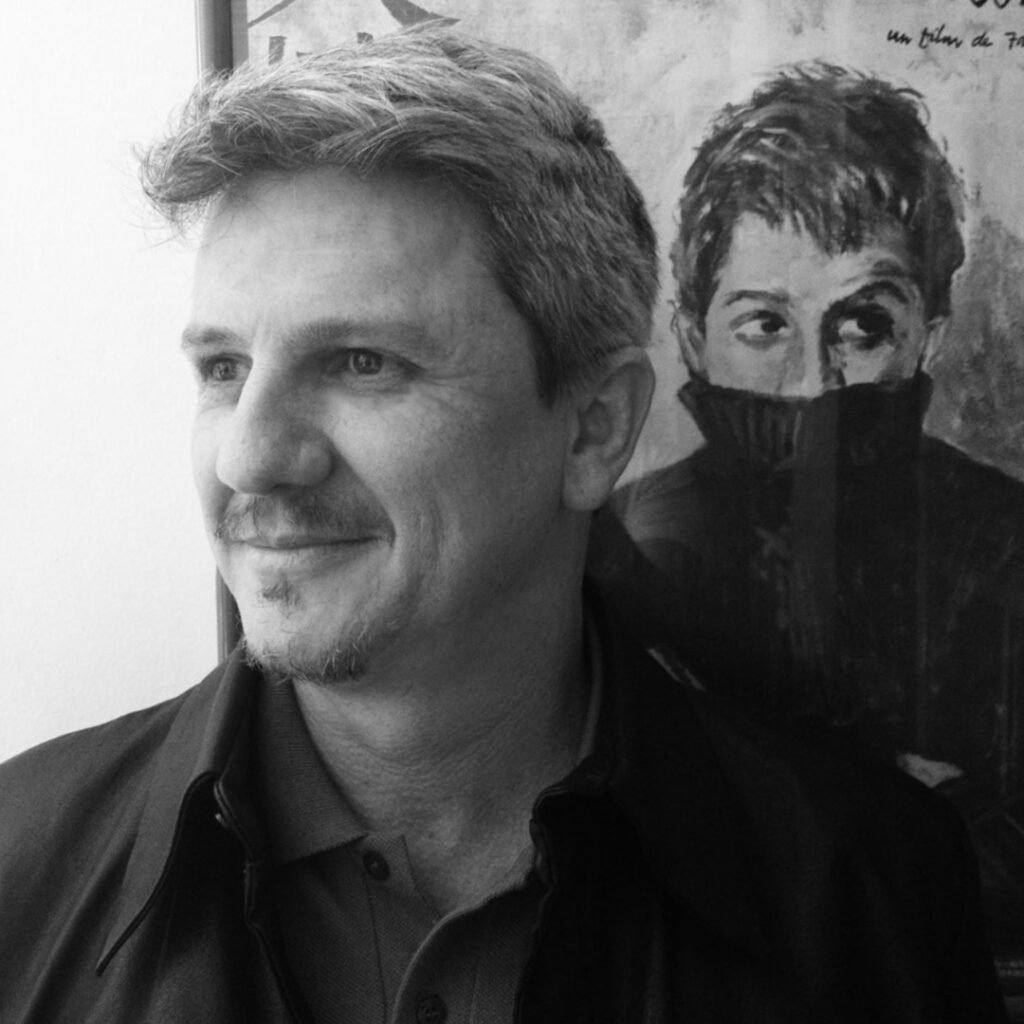 Ivan Melo 
Founding partner of Cup Filmes, Production and Distribution Company of independent films. Ivan was the executive producer of São Paulo International Film Festival and artistic director of the Festival de Paulínia. He produced documentaries Bem Vindo a São Paulo (2004), by Leon Cakoff and Renata de Almeida; ALVORADA PALACE, by Anna Muylaert and Lo Politi; Fronteira, by Juliano R. Salgado; and the features Body Electric (2017), by Marcelo Caetano; Bob Spit – We Don't Like People, by Cesar Cabral (2021) and THE MOTHER, by Cristiano Burlan (2022) among others.
He is currently developing new projects with Brazilian filmmakers Gregório Graziozi, Marcelo Caetano, Ilaine Melo, Cristiano Burlan and Cesar Cabral.
Jean-Michel Kibushi Ndjate Wooto
Jean-Michel Kibushi Ndjate Wooto, director, director-producer of animated films and documentaries is a conveyor of Congolese culture. Currently a doctoral student in Art and Art Sciences at the Université Libre de Bruxelles in joint supervision with the Université de Gand and L'École Nationale Supérieure des Arts Visuels La Cambre in Brussels.
A major pioneer of  African animation cinema, a specialist in stop motion animation, he contributed to the birth of Central African animation cinema by directing and producing original works distributed in France and the United States, as well as providing training for animation professionals. He creates in the  Democratic Republic of the Congo in 1988 the first mobile studio for the initiation and production of animated films and in 2004, the festival Caravane de Cinéma Mobile (mobile cinema caravan) to bring African cinema to the hinterlands of the Congo's Sankuru region.
Cesar Cabral
Cesar Cabral has a degree in Cinema through the Arts and Communication School – São Paulo University (ECA-USP). He began his career as a stop-motion animator in 1998 and co-founded the animation company Coala Filmes in 2000. He directed the stop-motion short films "The Re Bordosa Dossier" (2008), which won more than 70 awards in Brazilian and international film festivals, and "Storm" (2010) selected to many prestigious film festivals all around the world, such as Annecy, Hiroshima, Havana and Sundance.
Cesar created and directed 2 seasons of the young adult stop-motion animated series "Angeli The Killer", selected for the 2018 Annecy Film Festival and broadcasted at Canal Brasil. "Bob Spit – We Do Not Like People" was awarded Best Feature at Contrechamp section in Annecy 2021 and Best Feature in Ottawa Intl Animation Festival 2021.
Paul Bush 
Paul Bush is a filmmaker most well-known for experimental stop-frame animation. He has made numerous short and medium-length films including The Cows Drama (1984), His Comedy (1994), Rumour of True Things (1996), Furniture Poetry (1999), Dr. Jekyll and Mr. Hyde (2001) and While Darwin Sleeps (2004). He has won many awards and his films have been shown in festivals, cinemas, galleries and on television all around the world. Recently he has had retrospectives in Taiwan, Brussels, Madrid, Bucharest and Lisbon. He has directed commercials and his clients include Philips and National Panasonic. He has written four feature-length screenplays one of which he directed and was released in UK cinemas to critical acclaim in 2013.
He began teaching film in 1981 and established a film workshop in South London. He taught on the visual arts course at Goldsmiths between 1995 and 2001 and at the National Film and Television School since 2003. Bush has lectured, run workshops and tutored at numerous art and film courses around the world including Harvard, Luzern University, Centro Sperimentali di Cinematografia in Italy, EIC-TV in Cuba and The Animation Workshop in Denmark.
'Bush is a part scavenger, part inventor. Nothing is out of bounds and everything is worth trying. This is what makes Bush's work so welcoming; you never know what you're in for but you know it will be smart, funny, provocative and unique.' (Chris Robinson – Director, Ottawa International Animation Festival)
Claus Toksvig Kjaer
Claus Toksvig Kjaer is a Danish Animation Producer. He studied English Literature at Aarhus University but changed course and went to pursue Classical Drawing and Animation at The Animation Workshop in Viborg. After graduation, he worked on a number of short films before joining Cartoon Saloon in Kilkenny Ireland in 2006 as Production Coordinator on their BBC Television Show 'Skunk Fu'. Returning to Denmark in 2009 he began leading a series of animated science projects. In order to attract international co-productions to the region, he was hired by Arsenalet as Producer of their company cluster in October 2011.
Focusing primarily on feature film production he partnered up with Nørlum Animation Studio in 2013 co-producing such films as the Oscar-nominated 'Song of the Sea' for Cartoon Saloon and 'Long Way North' for Sacrebleu and Maybe Movies. The chance came for another collaboration with Cartoon Saloon in 2015, a 22 min. Pilot for Amazon Prime 'Eddie of the Realms Eternal' and continuing in that space in 2017 with Disney TV Animation on the first season of 'Big Hero 6 – The Series'.
Ivan Zuber
Ivan Zuber studied film production with a major in animation film at Gobelins School of Visual Communication in Paris. Upon completing his degree, he spends some time in Paris and Vancouver, Canada, while working in the industry for different films and production companies.
In 2012 he relocated to Berlin to work in an international film music publishing company, 22D Music Group.
Between 2012 and 2015 he attends several European MEDIA workshops such as Animation Sans Frontières (France-Germany-Hungary-Denmark) and AniDox (Denmark).
In 2015, he joins the Atelier Ludwigsburg-Paris, a French-German one-year programme of continuous education funded by the European Union, which focuses on international coproduction.
In October 2015, he founds Paris/Berlin-based production company Laïdak Films.
Still based in Berlin but traveling the world, Ivan gives prominence to international and intercultural projects.
He was elected to the French-German Cinema Academy Board in 2019.
Louise Bagnall
Louise Bagnall is an Irish filmmaker and a Creative Director at the animation studio Cartoon Saloon in Kilkenny, Ireland. Louise wrote and directed the Oscar® nominated short animated film Late Afternoon. She has also directed several other shorts including Cúl An Tí, Loose Ends and Donkey. Besides directing, Louise has worked as a character designer on Puffin Rock and The Breadwinner and as a storyboard artist on Wolfwalkers. In recent years Louise has worked as an assistant director on Nora Twomey's Netflix upcoming feature film My Father's Dragon. Currently, Louise is developing a feature film at Cartoon Saloon.
Tomm Moore

Co-founder and Creative Director of Cartoon Saloon
Over Cartoon Saloon's history, Tomm has worked as Director, Art Director, Storyboarder, Animator and Illustrator across a range of the studio's projects. Tomm has directed 3 universally successful feature films. All three were nominated for Best Animated Feature at the ACADEMY AWARD® The Secret of Kells in 2010 and the spiritual follow-up, Song of the Sea in 2015.
His latest feature film "Wolfwalkers" which he co-directed with Ross Stewart received several prominent critics awards including LAFCA Award and NYFCC Award as well as nominations for a Golden Globe and a Bafta and wins in several categories including Best Director and Best Independent Feature at the 2021 Annie Awards. He is currently working as a producer across several of Cartoon Saloon's new film and series projects as well as refocusing on his personal art training.
Olivier Catherin

Olivier Catherin has been trained as an ethnologist. In 2002 he joins the French Animated Films Association (AFCA) to create the International Animation Day celebration in France, then on an international level as the French representative on the ASIFA board. In April 2008, he left the AFCA to create the animated film production company "Les Trois Ours" and won a César award with the short 'Kiki of Montparnasse" in 2014. In 2017, he joins Pictanovo, in charge of the development of the animated film sector for the Hauts-de-France region. He's also teaching animation production at the INA (National Audiovisual Institute) and Sciences-Po (Political sciences) and he's one of the founders of the Emile Awards ceremony.
In 2019 he becomes a creative producer specializing in international co-productions, producing several short and feature-length films with different French production companies and animation consultants or experts for the development of the animation or the accompaniment of projects for CITIA-Annecy, CEE animation, Georgian National Film Centre and others.