So you've finally finished your animated short. What's next? The Kaboom Festival Submission Service can help you with that next step after completing your precious project. Our goal is to get your animated short film screened at festivals worldwide and giving it the attention it deserves.
Whether you're a seasoned filmmaker or a young novice we are here to help you.
How do we work?
1. We first set up a festival strategy: What would be a good place to premiere? Where can you meet the right people? What countries would welcome your film (it can be the entire world!), How many festivals do you want us to submit your film to? How do you feel about submission fees? Etc.
2. After determining the initial strategy we discuss pricing. We work with a transparent system where you pay per submission and per selection. Whether you have a generous budget or are on a shoestring, we will find a strategy that suits you.
3. We will help you to collect the items needed to carry out the submissions including Film versions, EPKs, bios, headshots, film stills, synopses, dialogue lists and more.
4. We will manage all deadlines, festival correspondence, filling out forms and file transfers so that you can focus on your next project and rest assured that all festival deadlines are taken care of.
5. When your film is selected at a festival, we first let you know about it! And of course, we take care of sending the master copy and the promotional materials.
Our Expert
Ursula van den Heuvel is in charge of the Festival Submission Service. With her 12-year experience of distribution at the Netherlands Institute for Animation Film (NIAF), she built up a strong network in animation film both locally and worldwide, maintaining contact with many film festivals and institutes. At the NIAF she was in charge of the distribution of the films of renowned Dutch animators like Paul Driessen and Michael Dudok de Wit, but she also works with 'new' animators like Job, Joris and Marieke, Joost Lieuwma, Yi Zhao and many more.
Distribution Catalogue
(Otto)
Director: Job, Joris & Marieke
Trailer
Aeronaut
Director: Leon Golterman

A Double Life
Director: Job, Joris & Marieke
Trailer

A Single Life
Director: Job, Joris & Marieke
Trailer
 At First Sight
Director: Sjaak Rood
Trailer 

Bei Mir Bist Du Schön
Director: Bouwine Pool
Trailer
Blèh
Director: Tim Alards
Trailer

Bristles
Director: Quentin Haberham
Trailer

Bullet Time
Director: Frodo Kuipers
Trailer

Camouflage
Director: Remco Polman & Jantiene de Kroon
Trailer
Cliffhanger
Director: Diederick Geers, Jelle Janssen, Jasper Loos
Trailer

Cycle
Director: Sophie Olga de Jong & Sytske Kok
Trailer
De Kameleon (The Chameleon)
Director: Pim ter Braak
Trailer
De Tand des Tijds (The Test of Time)
Director: Erik Verkerk & Joost van den Bosch
Trailer
Diafonie (Diaphony)
Director: Selle Sellink, Mirjam Debets
Trailer
Dorothy
Director: Henk Coetzee
Trailer: coming soon
Dwaler (Drifter)
Director: Joost Jansen
Trailer
Fly
Director: Patty Stenger
Trailer
Full Feather Jacket
Director: Liz el Saadany
Trailer

George & Paul (3 episodes)
Director: Joost van den Bosch & Erik Verkerk
Trailer
Hate for Sale
Director: Anna Eijsbouts
Trailer
Hoeba (Hooba)
Director: Sem Assink
Trailer: coming soon
Human Nature
Director: Sverre Fredriksen
Trailer
I Love Hooligans
Director: Jan-Dirk Bouw
Trailer

Inkt (Ink)
Director: Erik Verkerk & Joost van den Bosch
Trailer

Jabberwocky
Director: Sjaak Rood
Trailer

Koekoek (Cuckoo)
Director: Michaël Veerman
Film
Kop Op (Heads Together)
Director: Job, Joris & Marieke
Trailer
Kop Op! – de serie (Swop)
Director: Job, Joris & Marieke
Trailer: coming soon
kunstSTUK (Piece of Art)
Director: Erik Verkerk & Joost van den Bosch
Trailer
Le Crépuscule
Director: Laura Vandewynckel
Trailer: coming soon
Little Ox
Director: Raf Wathion & Patrick Vandebroeck
Trailer
Meal on the Plate
Director: Chenglin Xie
Trailer
Medulla – fiction
Director: Rudi Brekelmans
Trailer
Mind My Mind
Director: Floor Adams
Trailer
Monachopsis
Director: Liesbet van Loon
Trailer
Mute
Director: Job, Joris & Marieke
Screener
Nobody
Director: Job, Joris & Marieke
Parade
Director: Digna van der Put
Trailer
Red Fried District
Director: Flip van der Kuil, Stephan Miras
Sabaku
Director: Marlies van der Wel
Trailer
Sad Beauty
Director: Arjan Brentjes
Trailer
Scrambled
Director: Bastiaan Schravendeel
Trailer 
See Me
Director: Patty Stenger & Yvonne Kroese
Trailer
Speedy the Turtle
Director: Nigel Lievaart
Trailer
Spiegeling (Reflection)
Director: Sanna de Vries
Trailer
Tabook
Director: Dario van Vree
Trailer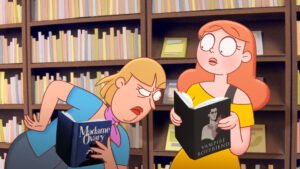 Tex
Director: Joost van den Bosch, Erik Verkerk & Hans Walther
Trailer
The Cloudmaker
Director: Hanna van Niekerk
Trailer
Tram
Director: Olga van den Brandt
Trampoline
Director: Maarten Koopman
Trailer
Tourist Trap
Director: Vera van Wolferen
Trailer
Undine
Director: Sjaron Minailo
Trailer
Varken (Pig)
Director: Jorn van Leeuwerink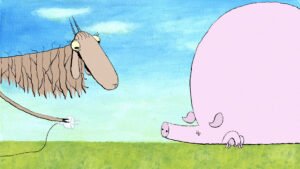 Zeezucht (Jonas and the Sea)
Director: Marlies van der Wel
Trailer
Contact us now
We constantly take in new short film productions. Contact ursula@kaboomfestival.nl for further information.
Sit back, relax, and let us handle your short film's distribution!