The greatest competitions: the Olympics, the World Cup, De Eredivisie, the NBA, your local darts tournament, and of course … The Kaboom Short Film Competition. Forget the Super Bowl, the most exciting show on the planet is this competition filled with animated shorts from all corners of the galaxy.
Here 59 films – including student shorts, films by seasoned directors and even music videos – battle it out for our coveted awards.
A BITE OF BONE
Honami Yano
Japan
A BODY
Milena Tipaldo
Italy
A BOY I NEVER KNEW
Daria Dedok
Belarus, Czech Republic
A FILM ABOUT A PUDDING
Roel Van Beek
United Kingdom
ALPAPUYO
Fiona Lena Brown, Germán Basso
Argentina
ANXIOUS BODY
Yoriko Mizushiri
France, Japan
ASTRALIUM
Lucie Andouche
France
B PLANET
Jan Moravec
Spain
BAMI
Eline Vanderbemden
Belgium
BARDO
Aisling Conroy
Ireland
BESTIA
Hugo Covarrubias
Chile
BOXBALLET
Anton Dyakov
Russia
BUSLINE 35A
Elena Felici
Denmark
CHITCHAT
Elisa Baudy, Bradley Lejeune, Flore Pean, Gabin Ageorges, Jeanne Dalmas
France
CHRONIC
Tiphanie Maya, Clémentine Poeymiroo, Camille Orain
France
DAT'S REAL GOOD?
Marc Faye
France
DO NOT FEED THE PIGEONS
Antonin Niclass
United Kingdom
EYES AND HORNS
Chaerin Im
Germany, South Korea, United States
FIREFIGHTER
Yulia Aronova
France
FIVE MINUTES OLDER
Sara Szymanska
Poland
GOOD AND BETTER
Gil Alkabetz
Germany
GREEN
Karolina Kajetanowicz
Poland
IMPOSSIBLE FIGURES AND OTHER STORIES I
Marta Pajek
Poland, Canada
IN NATURE
Marcel Barelli
Switzerland
INCOMPLETE
Dalena Tran
United States, United Kingdom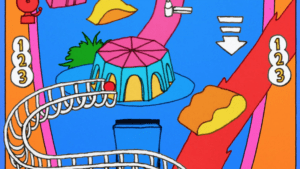 JNKYRD – VARSITY (feat. OHHYUK)
Gyuri Cloe Lee
South Korea
KAI – A LITTLE TOO MUCH
Martina Scarpelli
United States, United Kingdom
KEEP LEFT
Maya Remenyi
United Kingdom
LA BESTIA
Marlijn Van Nuenen
France
LOVE IS JUST A DEATH AWAY
Bára Anna Stejskalová
Czech Republic
MANFREDI SIMONETTI ft. KIMBERLY MANGANO – MARTE 
Francesca Colombara
Italy
MARVIN GAYE – WHAT'S GOING ON
Tim Fox
United Kingdom
MR. PETE & THE IRON HORSE
Kilian Vilim
Switzerland
NAVOZANDE, THE MUSICIAN
Reza Riahi
France
NIGHT OF THE LIVING DREAD
Ida Melum
United Kingdom
PETIPOU SYNDROM
Elliot Audigé
Belgium
PIMPLE ON THE NOSE
Davide Di Saro
Canada
POUM POUM!
Damien Tran
France
SERENADA TO CHICHA
Soo-hyun Jang
South Korea
SPACE
Zhong Xian
United Kingdom
SUMMER NIGHTS
Pablo Roldan, Ezequiel Torres
Argentina
SWEET NOTHING
Joana Fischer, Marie Kenov
Switzerland
TABLE
Joao Fazenda
Portugal
TERRA INCOGNITA
Adrian Dexter, Pernille Kjaer
France, Denmark
THE  AWAKENING OF THE INSECTS
Stephanie Lansaque, Francois Leroy
France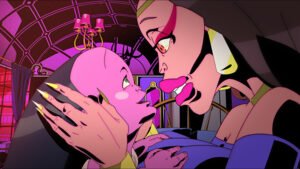 THE BOOB FAIRY
Léahn Vivier-Chapas
France
THE LAUGH
Capucine Gougelet
France
THE NIGHT WATCH
Julien Regnard
France, Belgium
THE SEINE'S TEARS
Yanis Belaid, Eliott Benard, Nicolas Mayeur, Étienne Moulin, Hadrien Pinot, Lisa Vicente, Philippine Singer, Alice Letailleur
France
THE SHAMAN'S APPRENTICE
Zacharias Kunuk
Canada
THERE SHE IS!! ANOTHER STEP
Keun-young Kim
South Korea
THING
Malte Stein
Germany
THIS IS WHY GIRLS GO TO THE BATHROOM TOGETHER
Lydia Reid
United Kingdom
TO THE LAST DROP
Simon Schnellmann
Germany
VADIM ON A WALK
Sasha Svirsky
Russia
WARTÄ – EINÄ NINNTS
Silvan Zweifel
Estonia
WE HOPE YOU WON'T NEED TO COME BACK
Anastazja Naumenko
Poland
WHAT DYING FEELS LIKE
Philip Ullman
The Netherlands
WHEN THE MOON WAS GIBBOUS
Erika Grace Strada
Denmark
WHITE SHADOW
Annelore Schneider, Claude Piguet
Switzerland, United Kingdom