Zo, je hebt eindelijk je animatiekortfilm af. Wat nu? De Kaboom Festival Submission Service kan je helpen met de volgende stap. Ons doel is om jouw animatiekortfilm wereldwijd op festivals te vertonen en hem de aandacht geven die hij verdient. Of je nu een ervaren filmmaker bent of nog maar pas aan het begin staat van je carrière, Kaboom is er om je op weg te helpen. 
Hoe gaan we te werk?
1.Eerst zetten we een festivalstrategie op. Wat zou een goede plek zijn om je film in première te laten gaan? Waar kun je de juiste mensen ontmoeten en je netwerk uitbreiden? Welke landen zouden je film met open armen ontvangen (en dat kan de ganse wereld zijn!)? Bij hoeveel festivals wil je je film indienen? Wat met de inzendingskosten? Etc.
2.Na het bepalen van een festivalstrategie bekijken we de prijsstelling en jouw budget. We werken met een transparant systeem waarbij je betaalt per inzending en per selectie. Of je nu een rijkelijk of net een erg klein budget hebt, we vinden steeds een strategie die bij je past.  
3.We helpen je om alle items te verzamelen die nodig zijn om je filminzendingen te vervolledigen: verschillende filmversies, perskits, biografieën, head shots, filmstills, synopses, dialooglijsten en meer. 
4.Wij houden alle deadlines in het oog, bewaken alle festivalcorrespondentie, vullen formulieren in en versturen de nodige files, zodat jij je kunt concentreren op je volgende project. Zo hoef jij je geen zorgen te maken over deadlines. 
5.Wanneer je film wordt geselecteerd voor een festival ben jij uiteraard de eerste die we dit laten weten! En natuurlijk helpen je bij het versturen van de kopij en het promomateriaal. 
Onze expert
Ursula van den Heuvel is verantwoordelijk voor de Festival Submission Service. Met meer dan twaalf jaar ervaring in distributie bij het Nederlands Instituut voor Animatiefilm (NIAF) heeft ze een sterk netwerk opgebouwd in de animatiefilmindustrie, zowel lokaal als internationaal. Ze onderhoudt contacten met heel wat filmfestivals en instituten. Bij het NIAF stond ze in voor de distributie van onder meer de films van gerenomeerde Nederlandse animatoren als Paul Driessen en Michael Dudok de Wit. Ze werkt ook graag samen met nieuwere stemmen als Job, Joris en Marieke, Joost Lieuwma, Yi Zhao en nog vele anderen. 
Distribution Catalogue
(Otto)
Director: Job, Joris & Marieke
Trailer
Aeronaut
Director: Leon Golterman

A Double Life
Director: Job, Joris & Marieke
Trailer

A Single Life
Director: Job, Joris & Marieke
Trailer

Alles van Waarde is Weerloos (All that is valuable is vulnerable) – documentary
Director: Karen Ebert
Trailer
 At First Sight
Director: Sjaak Rood
Trailer 

Bei Mir Bist Du Schön
Director: Bouwine Pool
Trailer

Bristles
Director: Quentin Haberham
Trailer

Bullet Time
Director: Frodo Kuipers
Trailer

Camouflage
Director: Remco Polman & Jantiene de Kroon
Trailer
Cinder
Director: Carmen Maria & Stijn van der Plas (Netherlands Film Academy)
Trailer: coming soon


Cinema
Director: Merel Hamers
Trailer
Cliffhanger
Director: Diederick Geers, Jelle Janssen, Jasper Loos
Trailer
Crumble
Director: Max Peterse & Eileen Boeijkens


Cycle
Director: Sophie Olga de Jong & Sytske Kok
Trailer

De Tand des Tijds (The Test of Time)
Director: Erik Verkerk & Joost van den Bosch
Trailer
Dwaler (Drifter)
Director: Joost Jansen
Trailer: coming soon
Full Feather Jacket
Director: Liz el Saadany
Trailer

George & Paul (3 episodes)
Director: Joost van den Bosch & Erik Verkerk
Trailer

Ghost Eye
Director: Wouter Sel & Thijs De Cloedt
Trailer

Hate for Sale
Director: Anna Eijsbouts
Trailer
Hot Tea:
Director: Marcel Tigchelaar
Trailer

Human Nature
Director: Sverre Fredriksen
Trailer

Humanoid
Director: Eva Wijers
Trailer

I Love Hooligans
Director: Jan-Dirk Bouw
Trailer
I'm Perfectly Fine
Director: Dario van Vree
Trailer: coming soon

Inkt (Ink)
Director: Erik Verkerk & Joost van den Bosch
Trailer

Jabberwocky
Director: Sjaak Rood
Trailer

Koekoek (Cuckoo)
Director: Michaël Veerman
Film
Koning Worst (King Sausage)
Director: Mascha Halberstad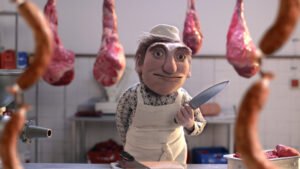 Kop Op (Heads Together)
Director: Job, Joris & Marieke
Trailer
Kop Op! – de serie (Swop)
Director: Job, Joris & Marieke
kunstSTUK (Piece of Art)
Director: Erik Verkerk & Joost van den Bosch
Trailer
Little Ox
Director: Raf Wathion & Patrick Vandebroeck
Trailer
Love on the Edge
Director: Anselm Oettel & Patty Stenger
Trailer

Meal on the Plate
Director: Chenglin Xie
Trailer
Medulla – fiction
Director: Rudi Brekelmans
Trailer
Mind My Mind
Director: Floor Adams
Trailer
Monachopsis
Director: Liesbet van Loon
Trailer
Monsterlijk Mooi
Director: Iskander Mos
Trailer
Mute
Director: Job, Joris & Marieke
Screener
Parade
Director: Digna van der Put
Trailer
Red Fried District
Director: Flip van der Kuil, Stephan Miras
Trailer: coming soon
Sabaku
Director: Marlies van der Wel
Trailer
Sad Beauty
Director: Arjan Brentjes
Trailer
Scrambled
Director: Bastiaan Schravendeel
Trailer 
See Me
Director: Patty Stenger & Yvonne Kroese
Trailer
Spiegeling (Reflection)
Director: Sanna de Vries
Trailer
Steward
Director: Jim Süter
Trailer
Tabook
Director: Dario van Vree
Trailer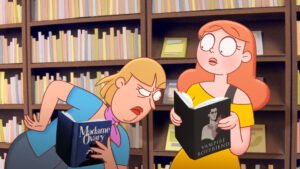 Tex
Director: Joost van den Bosch, Erik Verkerk & Hans Walther
Trailer
The Cloudmaker
Director: Hanna van Niekerk
Trailer
The Grand Book
Director: Arjan Brentjes
Trailer

Tram
Director: Olga van den Brandt
Trampoline
Director: Maarten Koopman
Trailer
Tourist Trap
Director: Vera van Wolferen
Trailer
Undine
Director: Sjaron Minailo
Trailer
Varken (Pig)
Director: Jorn van Leeuwerink
Trailer: coming soon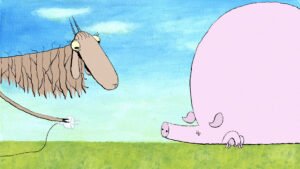 Zeezucht (Jonas and the Sea)
Director: Marlies van der Wel
Trailer
Contacteer ons
We nemen voortdurende nieuwe kortfilmproducties aan. Neem contact op met ursula@kaboomfestival.nl voor meer informatie. 
Relax, vertrouw op ons en de distributie van jouw kortfilm komt helemaal in orde!