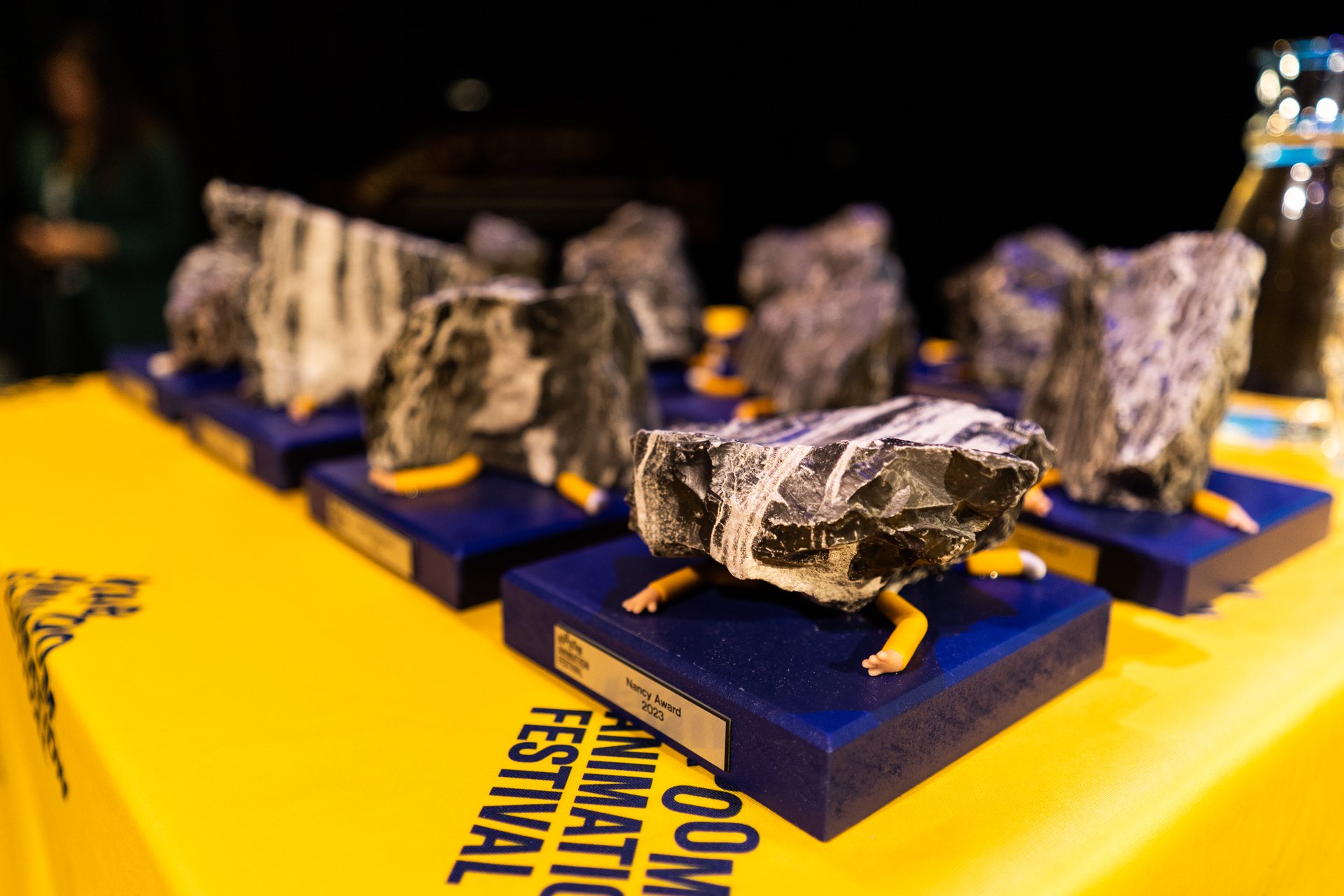 AND THE WINNERS ARE…🥁🥁🥁
On Saturday, April 1st, we held our Award Night and what a night it was! We had a blast watching all your films this year, and thank you for all your submissions!
THE BEST OF THE BEST OF KABOOM 2023 – our winners, our pride and joy – as designated by our jury and yourselves are:
Best Short – 'Skinned' by Joachim Herisse
Best Student Short – 'Goodbye Jérôme!' by Adam Sillard, Gabrielle Selnet & Chloé Farr
Best Documentary – 'The Heights' by Alejandro Salgado
Best Dutch Short – 'Questbound: Forbidden Ventures of the Undead Soul' by Owen Buckley & Alexander Bierling
Best Music Video – 'How Many' by Bianca Scali
Best VR – 'From the Main Square' by Pedro Harres
Jamie Bolio Award – 'Ice Merchants' by João Gonzalez
Audience Award for Best Short – 'Freedom Swimmer' by Olivia Martin-McGuire
Audience Award for Best Experimental Short – 'Fur' by Zhen Li
Audience Award for Best Commissioned Short – 'An End to War Enough' by Simone Massi
Audience Award for Best Children's Film – 'Momo' by Erik Verkerk & Joost van den Bosch
Audience Award for Best Feature – 'Blind Willow, Sleeping Woman' by Pierre Földes
Nancy Award – 'Garrano' by David Doutel & Vasco Sá
Thank you all and we can't wait to see your submissions for 2024!