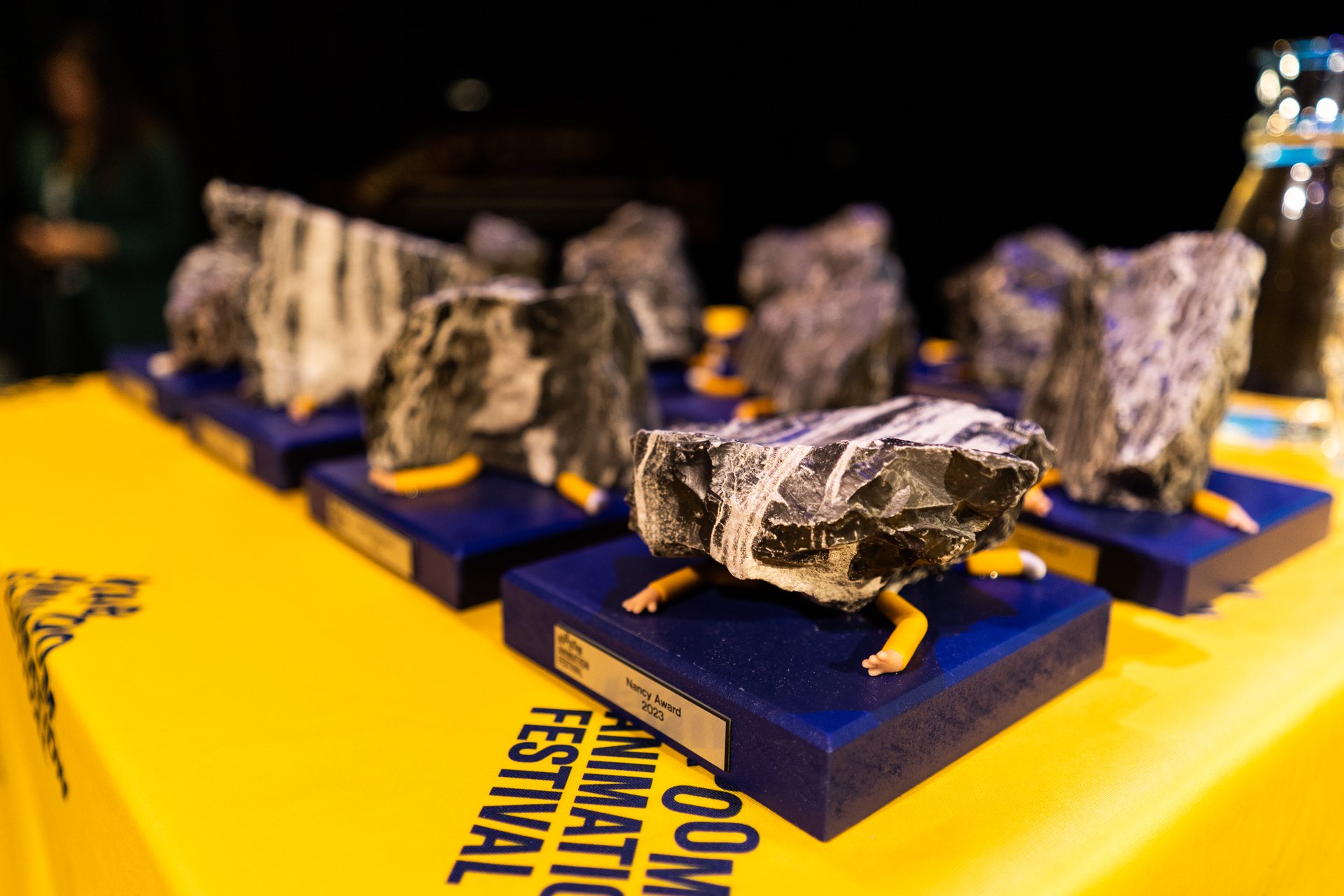 EN DE WINNAARS ZIJN…🥁🥁🥁🥁
Zaterdag 1 april was onze Award Night en het was een geweldige avond! We hebben genoten van elke film, grote dank voor al jullie inzendingen!
HET BESTE VAN HET BESTE VAN KABOOM 2023 – onze winnaars, onze trots & vreugde – geselecteerd door onze jury en door het jullie, het publiek, zelf zijn:
Beste Korte Film – 'Skinned' van Joachim Herisse.
Beste Studenten Korte Film – 'Goodbye Jérôme!' van Adam Sillard, Gabrielle Selnet & Chloé Farr.
Beste Documentaire – 'The Heights' van Alejandro Salgado
Beste Nederlandse Korte Film – 'Questbound: Forbidden Ventures of the Undead Soul' van Owen Buckley & Alexander Bierling.
Beste Muziekvideo – 'How Many' door Bianca Scali
Beste VR project – 'From the Main Square' door Pedro Harres
Jamie Bolio Award – 'Ice Merchants' door João Gonzalez.
Publieksprijs voor Beste Korte Film – 'Freedom Swimmer' door Olivia Martin-McGuire
Publieksprijs voor Beste Experimentele Korte Film – 'Fur' door Zhen Li
Publieksprijs voor Beste Korte Film (in opdracht) – 'An End to War Enough' door Simone Massi
Publieksprijs voor Beste Kinderfilm – 'Momo' van Erik Verkerk & Joost van den Bosch
Publieksprijs voor Beste Speelfilm – 'Blind Willow, Sleeping Woman' van Pierre Földes
Nancy Award – 'Garrano' van David Doutel & Vasco Sá
Bedankt allemaal en we kunnen niet wachten om jullie inzendingen voor 2024 te zien!